/

Eagles Officially Name Foles Week 1 Starting QB
Eagles Officially Name Foles Week 1 Starting QB
Tuesday, September 04, 2018 2:46 PM America
Eagles officially announce that Nick Foles will start against the Falcons.
Nick Foles will be under center when the defending champion Philadelphia Eagles host the Atlanta Falcons on Thursday night. Coach Doug Pederson made the announcement on Monday, one day after a testy exchange with reporters in which he insisted he wanted to wait before ruling out Carson Wentz.
"After consideration and everything and about the football team and this decision, Nick Foles is the starter Week 1," he said. "My press conference will be tomorrow, and I'll answer questions at that time. But I wanted you to hear it from me. It is about the football team and the best interests of the 53. And Nick Foles will be my starter Week 1. Thank you."
"In the best interest of everything about the football team and this decision, Nick Foles is the starter Week 1," said Pederson, who wasn't scheduled to speak to the media and plans to answer questions at his regular news conference on Tuesday.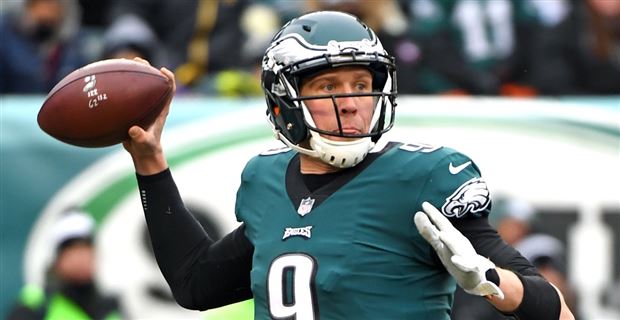 Foles was spectacular in the playoffs and helped Philadelphia defeat New England 41-33 to win the franchise's first Football title since 1960.
"We've had a lot of success with Nick," offensive coordinator Mike Groh said. "We've got a lot of confidence and faith in Nick and the way that he's going to play and the way that guys are going to play with him."
Pederson did confirm that quarterback Carson Wentz has not yet been cleared for contact. Wentz, the former No. 2 pick out of North Dakota State, has looked increasingly like his old self in recent weeks, ESPN reports. His mobility is returning, and his throwing velocity is up compared to last year. He has been splitting first-team reps with Foles during practice of late.
He is still on the early side of a traditional timetable for return from this type of injury, however. ACL tears typically take nine to 12 months to recover. The Atlanta game comes a few days shy of that nine-month mark. Wentz tore his LCL as well, which delayed the rehab process and made for a more complicated surgery and recovery.